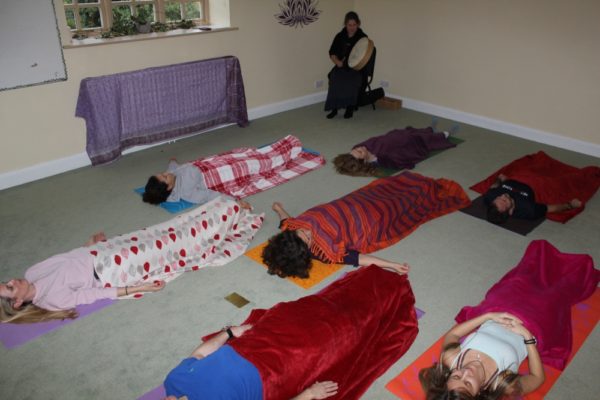 Drum Journey
The drum has been used for healing and altering consciousness since ancient times. Drum Journey, inherited from Shamanic wisdom and practice around the world, uses a repetitive beat to induce a trance state- a very deep relaxed state akin to meditation and dreaming. 
Modern science explains this as the sound entraining the brain to slower waves ( theta / alpha theta border) which are associated with numerous physical benefits- lowered blood pressure and heart rate, reduction in stress hormones cortisol and adrenaline and balancing of sodium potassium balance, essential for many bodily functions. 
Psychological benefits can include information, insights, creativity, awareness, psychic phenomena and shift in perspective. Visuals are common, hence the idea of an inner journey. It can also be helpful for pain control. 
Typically people lie down and get comfortable after setting an intention for their journey- healing, information, guidance, relaxation etc and I play for around 30mins, then gently use graduated percussion (shakers etc) to help them come back to a grounded waking state. People are encouraged to bring yoga mat or blanket to lie on and / or cover up with and water for afterwards. 
During a 121 session, we would explore what a client wants from the session and how the issue is experienced before the client lies on a therapy couch for treatment and afterwards perhaps offer a rhythm or breathing exercise to move forward.