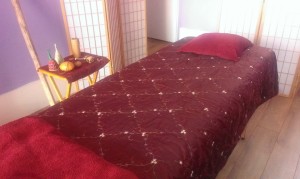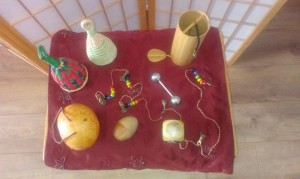 The BAST method of Holistic Voice Therapy is a one to one treatment consisting of Passive Voice Therapy treatment and dynamic breathing, vocalisation, visualisation and movements (depending on need and relevance) called Vocal Processing Techniques (VPTs). You may have a passive treatment, an active treatment or a combination.
A passive treatment is very much like a personal voice bath. After a sharing and exploration of what you are bringing to the session and would like to work on, you are invited to lie comfortably on the couch while I create a series of vocal tones and overtones, designed as a treatment personal to you. People usually find this a very enjoyable, relaxing experience and may enter into a very deep state similar to that of meditation or just before falling asleep and may experience feeling warm, seeing colours, having imagery, a distortion in time or personal insight as you enter an altered state of consciousness.
At the end of the treatment you will hear a series of grounding percussion instruments to gently bring you back from your relaxed state and afterwards you will be invited to share how that was for you. If we are doing a partly active treatment I can then offer some exercises (VPTs) for you to do in the session and / or as homework between sessions, depending what I feel will be of most benefit to you.
A purely active treatment involves a similar sharing and exploration of the issues brought to the session and then you will be offered exercises (VPTs) for you to do using your breath, voice, visualisations and movements depending on what I feel will be most helpful to explore, express and transform. Working in this dynamic way with your own voice really can be truly powerful work.

You can book a treatment with me Fridays in Herne Bay at The Tranquility Space or contact me on 01227 741802. You can also come to the HolistiCentre, near Canterbury various days by appointment. Please get in touch for further information.