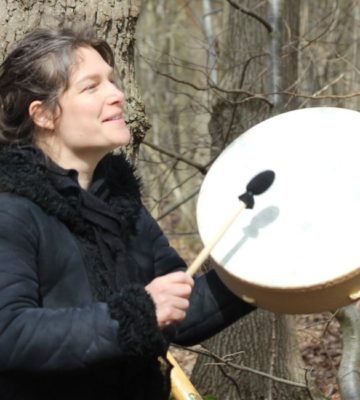 I believe our voices are sacred. In many cultures there are creation stories that describe it being the word or the voice that brought the world into being. Abrahadabra actually means "I create as I speak" It is the Intent behind the words the voice conveys. Yet so many of us have issues with our voices – whether it is not speaking up, not expressing ourselves, fear of public speaking, or wanting to sing yet feeling inhibited or not feeling good enough. The voice conveys so much and when we hear a singer connected with the emotion of a song, it can speak to us heart to heart or soul to soul. Similarly, working with the voice can dramatically shift and transform our blocks.
My own personal journey involved learning to speak up, stand up for my self and others. I also used to have debilitating performance nerves, yet I knew singing and music was such a deep part of who I am so I had to overcome my limiting beliefs and my conditioning. Over the years I have studied and applied to myself psychology, counselling and psychotherapy theories and principles, NLP, Shamanic practices and spiritual teachings, trying to 'fix' things that were 'wrong' with me, to understand myself but also trying to help myself feel better having had issues with depression, anxiety and self worth.
Now, having trained in the BAST method of Holistic Voice Therapy, it brings together so much of what I have learned and together with my experience and training in singing and vocal coaching I can offer help with singing, projecting, public speaking but also for transformative therapeutic work, on a physical, mental, emotional and spiritual level, depending on what the client's needs are. Using the voice as medium we can work on many issues unrelated to the voice.
Whilst it can be useful for working with the voice itself, Holistic Voice Therapy may be particularly helpful for relationship issues – to the self and with others but also as we are holistic beings we often find working on certain issues or elements be they physical, emotional, mental or spiritual, can free up energy and find we have relief from physical pain. Or working on the thoughts and feelings we have around a physical health problem can bring much benefit on all levels of being and aspects of life.